Since the beginning of iPhone productions by Apple, Samsung kept stealing and cloning Apple's ideas and patents with the called Galaxy smartphone. As we all know, Samsung revealed today the new Galaxy S6 & Galaxy S6 Edge and showed all the new features, design and software... All of tech experts, whether Apple fans or not, claimed that Samsung Galaxy S6 is the new iPhone 6 clone.
In this article, I'm going to write down the things that I (and maybe all of you) have seen and noticed in the today's Samsung Galaxy S6 and S6 Edge reveal.
1. The Fingerprint Sensor
As all of you already know that Samsung have stolen the Fingerprint sensor from Apple's iPhone 5S and installed it on the Galaxy S5 last year. All of the Galaxy S5 users complained about the inefficiency of the sensor since it was implemented on the bottom of the screen itself, and one must keep scrolling his/her finger from downwards multiple times for the sensor to recognize the fingerprint. Also, the fingerprint was a lot inaccurate because it couldn't read the fingerprint on rotations sides.
This time, Samsung changed the placement of the sensor from screen to the Home button, just like what Apple did more than 1 year ago.
2. Non-Removable Battery
The last years, Samsung Galaxy fans were happy about the Removable and Changeable battery, but Samsung did a backwards step and made the battery non-removable and non-replaceable. This is suspicious, because the iPhone from the beginning had this implementation of internal batteries.
3. No More Waterproof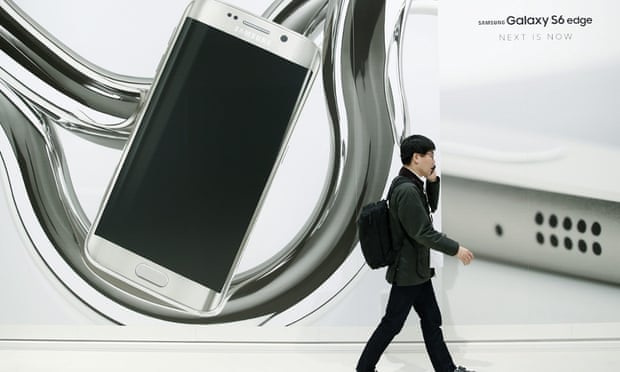 And yes, Samsung did another step backwards and followed Apple by removing the IP67 certification, so it's no more dust or waterproof. Thus, throwing your Samsung Galaxy S6 or S6 Edge in water will certainly damage your phone.
4. Bottom Speakers and Headphone Jack
Just like the previous iPhones, Samsung Galaxy S6 Speaker and Headphone Jack are on the bottom side, not longer on the upper side or back side.
5. No Additional MicroSD Card Memory
Samsung also removed the additional MicroSD slot as it comes with 3 different storage options: 32GB / 64GB / 128GB
6. Apple Pay? Here's Samsung Pay
This one could leave open-mouthed, as all of you know Apple introduced their own NFC highly secured Payment method called Apple Pay, now Samsung did the same NFC thing on the Galaxy S6 and S6 Edge, but they failed naming it: It's called Samsung Pay... Well it's all up to you whom you should believe as a real originator...
7. The Design
I'll leave you with the bottom images comparing the iPhone 6 and Galaxy S6 side by side.
Galaxy S6 Edge
Samsung S6 on Left & iPhone 6 on Right
They cloned the Earpods of the iPhone!